FULL BLUEGRASS SITUATION ARTICLE HERE
 BY DAN REILLY
Just watching the Ben Miller Band set up for a show tells you you're in for something unique. The three bearded men have a guitar, drums, mandolin, and a couple of horns, which seems normal enough, but then you see the electric banjo, electric washboard, a microphone made out of an old-school telephone handset, and, best of all, a single-stringed washtub bass. At this point you probably haven't even seen multi-instrumentalist Doug Dicharry's electric spoons, which he runs through a series of effects pedals that allow him to do Hendrix-like solos with a pair of plastic-handled utensils cribbed from Cracker Barrel.
When the Bluegrass Sitch saw them at New York City's Mercury Lounge, the crowd was sparse but the energy was high. They ran through cuts off their recently released second album, Any Way, Shape or Form, and threw in covers of Nirvana's "Heart-Shaped Box" and Ram Jam's "Black Betty," mixing the most distorted of blues, rock and roll, and traditional Appalachian folk into a stew they call "Ozark Stomp" that's made even more unique by their hand-crafted instruments.
The trio — frontman and main songwriter Ben Miller, bassist Scott Leeper, and Dicharry, who takes care of most percussion as well as mandolin, trombone, and trumpet — hail from Joplin, Missouri, a small city best known for the 2011 tornado that killed 158 people and left a heartbreaking amount of physical, financial, and emotional damage in its wake. Thanks to their Joplin native friend and engineer/producer Vance Powell (Jack White, Beck, Buddy Guy, Chris Thile) they were able to track the charity EP, Record for Joplin, at Nashville's famed Blackbird Studios, with four songs on one side of the vinyl and the names of the victims on the other.
"We knew we wanted to do something to help the town out and the best thing we do is play music, so we called Vance up," says Miller, seated with his bandmates at the Double Down Saloon, a dive not far from the venue they just played. "We've given quite a bit of money to local businesses, and a new music store we helped fund, $4,000 to them. It's been a really great experience, from an honestly good place."
"My brother lost his house," says Dicharry. "At one of the benefit shows in Joplin, this band from Columbia, a little ways away, had raised a bit of money and divvied it up among each member and said, 'You have to find somebody that's been affected by this and give him this money.' One of them found my brother and gave him like 75, 100 bucks, not a whole lot but it was enough that he could buy his daughter some food or school clothes that week. Simple things like that were happening everywhere."
Well before that tragedy, the group got together by happenstance. Miller, a Washington state native, found himself in Joplin after a few years spent busking and living with a now ex-girlfriend in Hamburg, Germany. He hosted open-mic nights in nearby Neosha, where Dicharry — who'd played in experimental noise bands — started regularly dropping by with his trombone to jam along on tradiotional blues songs. Though Dicharry had planned on chilling out on his alcohol intake and getting a 9-to-5 job, he found himself starting a regular slot with Miller where they'd host open-mic jams early then late-night karaoke in a handful of Joplin bars. The gigs, though, often included Miller originals that they were inadvertently perfecting before they even decided to become a real band.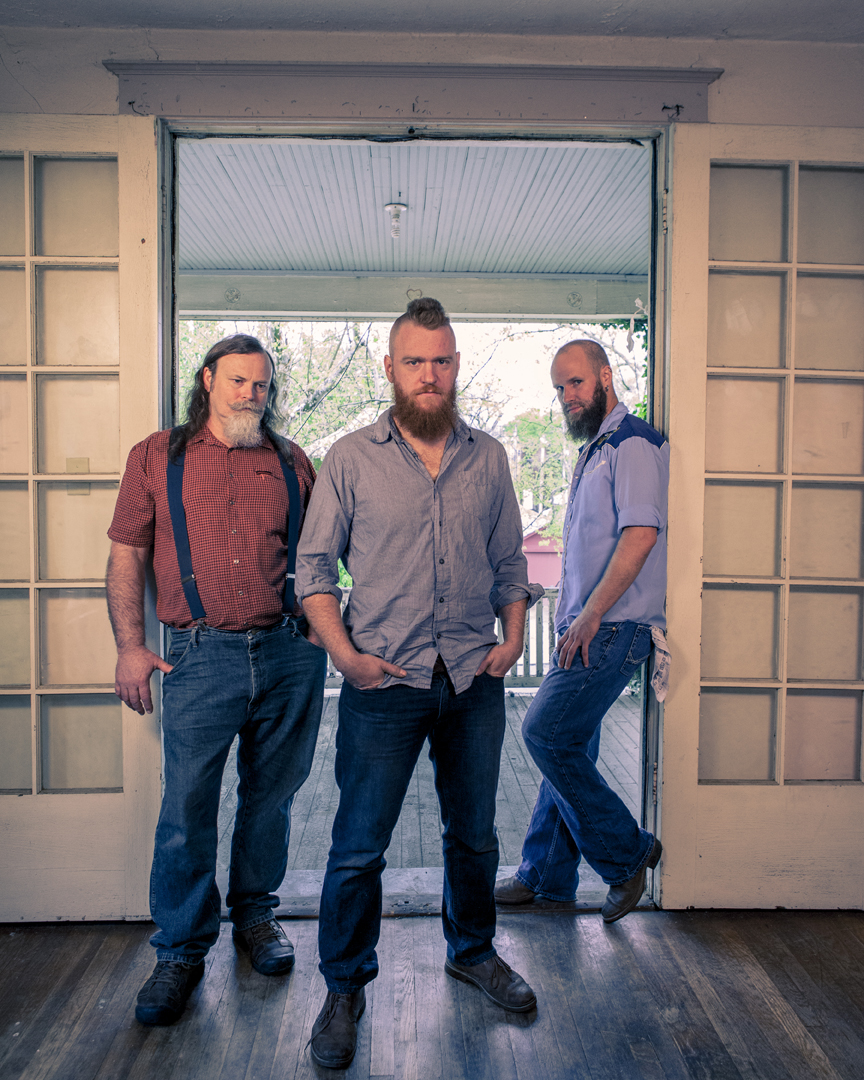 "What's funny is that I thought these were songs Ben wrote because I didn't listen to the blues, didn't listen to Bob Dylan, didn't listen to country, bluegrass, none of this shit," Dicharry, easily the group's widlman, says laughing. "I'd say, 'This is really good. Where did you come up with this shit?' A couple weeks later it would come on the radio or someone would play me a CD. Like, 'You motherfucker, you didn't write this shit at all.'" (For the record, Miller's karaoke go-to was "Twist and Shout," while Dicharry went with hip-hop classics like "Rapper's Delight" and "I Like Big Butts," occasionally opting for Jagermeister-fueled renditions of Nine Inch Nails' "Closer," wrapping a belt around his neck and simulating masturbation for "the shock factor.")
The regular shows eventually earned them a weekly Friday gig in Fayetteville, Arkansas, where they met Leeper, who started playing the gutbucket bass because he liked the challenge of the precision it requires. Soon enough, they were an official trio, and then the DIY gadgetry came into play, mostly out of necessity. They electrified the spoons and the washboard with dirt-cheap mics from Radio Shack, taking amps and other broken equipment from other musicians who didn't have the skills to repair them. "We just do things and when they fail, we don't do them again," says Miller. "Then when they succeed, we do them again until they fail." (It also helps that Dicharry took some courses to be an electrician, and swears that "if you put enough solder on something, it'll stick.)
Thanks to a shared management company, the group's biggest break came in the form of an opening slot for three ZZ Top tours, one in North America and two in Europe. "I'm not sure what the idea was: 'Those guys have beards, these guys have beards, let's put them together,'" says Miller. "We get along super well, hit it off right from the get-go. They love our music, treat us like family."
So what have they learned from the Rock and Roll Hall of Famers?
"Dusty [Hill, ZZ's bassist] told me, 'When you're famous and you have to pee, go into a stall, not the urinal,'" says Miller. Adds Dicharry, "Especially if there's a crowd, like these tough bikers want to see what you're working with."
Best of all, Leeper got the backstory for Top's 1973 track "Master of Sparks." "In high school, he and his buddy built this huge ball out of Rebar-type metal. They put a chair in it, welded it to the floor, and they'd put it in a back of a pickup truck, and one of them would get in it. They'd get up to 60mph at night and drop that thing out, free-for-all. It sparked like crazy. Who does that?"
So, with a label behind them and thousands of dollars in album sales thanks to their tours with ZZ Top — not to mention another one coming this fall, starting Sept. 27 in Portland, Maine — what's next for the trio?
"To get our face on money. I'd like the one dollar bill, personally," Miller deadpans. "Since we've started we've always wanted to play the best music we could for as many people as we could as often as is possible, so in that sense we've always been a complete success. But also in that sense, we'll never get to a spot where we're done. We can always do something better, play for more people, do it more often."
"It's an inside joke for us where our manager will say, 'Hey, I'm looking to get you onto this show,' and we're like, 'Finally! After that we can be done,'" Dicharry adds. "'We can do that Acid Jazz thing we've always wanted to do. This is bullshit.'"
Ben Miller Band's latest album Any Way, Shape or Form is available now via New West Records.
CLICK HERE FOR TOUR DATES & MORE !!